Reputation Armor
Removing Ripoff Reports Since 2007 
Reputation Armor is an innovative technology oriented online reputation management and reverse search engine optimization firm. As one of the pioneering online reputation management firms, Reputation Armor has a tried and tested approach to eliminating highly visible negative press and online complaints for businesses and individuals.
Reputation Armor clients include Doctors, Attorneys, Restaurants, Retail Stores, Small Business, and an array of other industries.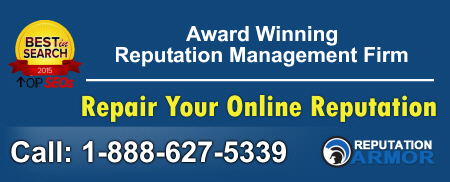 With the abundance of online channels for consumers to use in order to vent their frustrations and opinions, online reputation management has become an essential element of many businesses marketing strategy. Internet graffiti can come in many forms such as online reviews, complaints, personal attacks, unflattering images and videos. The superfluity of online complaint portals has made it nearly impossible for most business to have a perfect online reputation. Reputation Armor is not your average "SEO" company, we employ innovative, cutting edge reputation management techniques that are often mimicked but never perfected.
In today's 21st century communications atmosphere, any strategy relying entirely on conventional media to advance proactive messaging and change public insight simply will not work. Without a well-built, integrated digital and social media existence, reputations suffer and critical opportunities to manage what people assume about you are missed.