Remove Online Defamation
You Don't Need A Defamation Attorney
Reputation Armor has a full staff of reputation management & Internet Defamation removal experts that can you or your company with many aspects of removing negative internet content. When you hire Reputation Armor you are hiring an experience team that will do whatever it takes to fix your problem for you.
Reputation Management Services We Offer:
Below is a list of techniques and services we offer. Some of the services listed below may not be used (needed) when helping with your unique reputation management needs.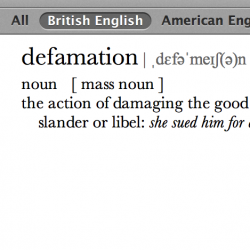 Defamation: Remove & Fight Online Defamation without an Attorney!
Defamation can not only affect your reputation and good name when others come in contact with the defamatory statements, but defamatory Internet postings can follow you for a long time when they are indexed by search engines like Google, Yahoo, or Bing. That is why it is vital to work with a reputation management team to have the defamatory statements removed immediately from the website and from the search engine cache or bury the negative links so potential searchers so not find the negative mentions of you or your company. Sources of online defamation can vary. Here is a list of common problem areas:
| | |
| --- | --- |
| | RipOff Report / RipOffReport.com Defamation |
| | Scam.com - USAComplaints.com - Complaints |
| | Blog and Blogger Defamation |
| | Online Forums and Social Media |
| | Internet Defamatory Links On Google |
| | FaceBook BlogSpot, TheDirty.com, Ex's |
| | YouTube, Video Defamation |
| | Online Complaints / Bad Reviews |
| | Ex-Girlfriend/Boyfriend Posting Lies |
| | Ex-Wife - Ex-Husband Posting Lies |
| | Disgruntle Employees & Customers |
Defamation Is A Serious Issue and Growing Concern
Defamation, sometimes called "defamation of character", is spoken or written words that falsely and negatively reflect on a living person's reputation.
Slander is generally spoken and libel is generally written. Many people call anything online that is false and negative, internet slander.
In order to prove defamation, you have to be able to prove that what was said or written about you was bogus. If the information is factual, or if you agreed to publication of the matter, you will not have a case. However, you may bring a defamatory action if the comments are so liable and false that they effect your reputation in the community.
If you have been defamed you may seek both actual damages, to recover the injury that you have suffered, and punitive damages to penalize the person who made the statement (and serve as an example to discourage others).
If the defamation inappropriately accused you of a crime or reflected on your profession, the Court or jury can assess the damages. For other types of defamation you have to prove some real damage to be able to recover.
.
| | | |
| --- | --- | --- |
| | "We Guarantee Our Service 100% Positive Results Or Your Money Back..." | |
We can help you today! Contact us and let us evaluate your issues and see what type of solution we may be able to provide. Don't wait - negative online defamation links go viral and spread across the internet on feeds and copycat sites quickly. Let's deal with the problem sites right away to stop the negative impact it may have on you.